IHIF 2022 in Berlin/ © IHIF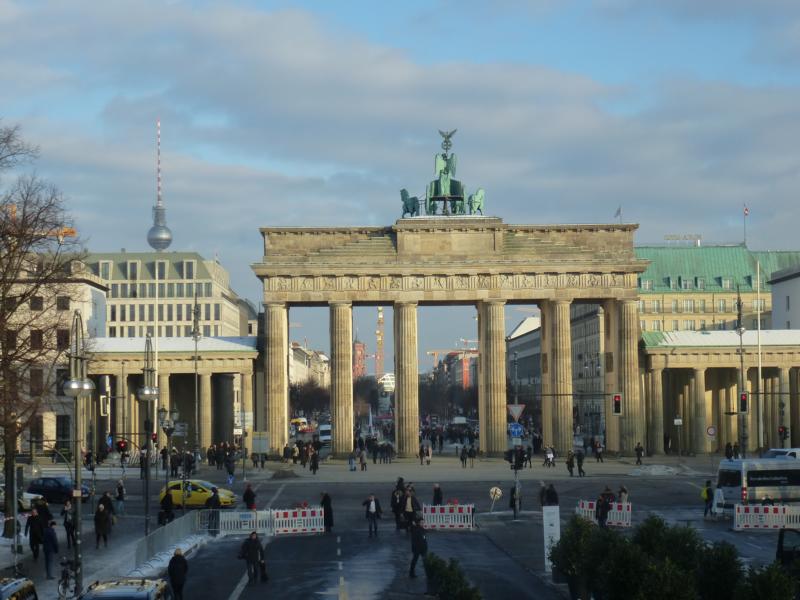 Foto/Archiv/Wolfgang Behrens
Das InterContinental Berlin wird für drei Tage zum zentralen Treffpunkt der Hotel- und Tourismusbranche.
"Join senior leaders. Connect with top brands" - so das Motto dieser Hotelfachmesse und Geschäftsplattform für hochrangige Entscheidungsträger der internationalen Hotellerie und Tourismusbranche. Hier werden die Weichen für die nächsten Jahre gestellt.Aber nicht nur Hoteliers und "game changer" strömen zum IHIF nach Berlin, sondern auch Investoren und Geschäftsführer sowie Anwälte, Designer und Architekten, um Kontakte zu knüpfen, innovative Produkte und Geschäftslösungen zu finden und Geschäfte abzuschließen.
Die Teilnehmer kommen aus allen Teilen der Tourismusbranche – hauptsächlich Hotels und Luxushotels, aber auch Fluggesellschaften, Touristinformationen und Autovermietungen.
Das IHIF BERLIN 2023 ist die perfekte Plattform für Networking und die beste Gelegenheit, die richtigen Geschäftspartner zu finden.
Jedes Jahr nehmen zahlreiche Delegierte und hochrangige Entscheidungsträger, die für die Gestaltung der europäischen Hotellerie zuständig sind, an der Konferenz des International Hotel Investment Forum Berlin teil.
Das Messeangebot umfasst Hotels, Luxushotel, Luxusresorts, Kreuzfahrten, Kurbäder, Fluggesellschaften, Charter-Flüge, All-inclusive-Reisen, Touristinformationen, Limousinenvermietungen, Autovermietungen uvam.
Also, nutzen Sie die Gelegenheit..
and join it!
The International Hospitality Investment Forum (IHIF) – the meeting place of hospitality innovators and game-changers – takes place in Berlin May 15 - 17.
The popular industry-leading event returns after a successful 2022, where 2,400 forward-thinking professionals, including investors, owners, operators and developers, met to forge deals, network and glean valuable insight from experts in economics, investment, development, asset management and hospitality.
Under the headline theme, Fortune Favours the Bold, IHIF 2023 will inspire delegates to make bold decisions to generate successful investment strategies.
Whether you are an investor, owner, operator, or developer, there are multiple benefits to attending IHIF 2023. Here are five of them:
Find hospitality's leaders under one roof
Rarely do you find leading names from the hotel industry, including Keith Barr, CEO of IHG Hotels & Resorts; Sébastian Bazin, chairman and chief executive of AccorHotels; Jonathan Mills, CEO, Choice Hotels and Dimitris Manikis, President EMEA Wyndham Hotels & Resorts, gather in one place.
These industry titans will take to the stage at IHIF 2023 to share their insights and reflect on their experience through one-to-one interviews and panel discussions. Unmissable sessions include Keith Barr's CEO Interview: Raising the Stakes on Tuesday 16 May, where the leader of the global hotel group will share his wisdom and provide a glimpse into IHG's strategy for high-quality growth, and Accor chief Sébastian Bazin's Discourse on Method: A Global CEO on Adapting to a New Environment​ – a reflection of the thinking process and decisions to make for a thriving future.
2.Get equipped to face the future
Aware of the multiple challenges facing hospitality, the IHIF 2023 programme is designed to deliver insights and drive discussions that will help the industry face the future with confidence and optimism.
Kicking things off on Tuesday 16 May will be Oxford University's Ian Goldin's high-level analysis of the impact of the major trends affecting global economies. In Managing the Macro: An Economist's View on Structural Forces and Current Trends, professor Goldin will explore how the hospitality investment sector can manage the impact of globalisation, inflation, rising interest rates, debt availability, volatile capital markets, government instability, climate change and more.
On Wednesday 17 May, the focus turns to partnerships and performance. Gain insights into partnerships and how they can help businesses move forward in uncertain times in CEO Panel: Scale or Niche : The Value of Partnerships for Competitiveness with Steigenberger Hotels CEO Oliver Bonke and JLL Hotels and Hospitality Global CEO Gilda Perez-Alvarado.
For those looking to address staff shortages and improve team productivity, panel discussion Driving Alpha: Efficiency, Productivity, Profitability will see a host of experts, including Ruslan Husry of HR Group and Allison Reid of Aimbridge Hospitality, examine strategic and tactical tools to drive operational efficiencies and ensure profitability.
Delivering the keynote and helping the industry plan for future growth will be Professor Hannah Fry, professor in the Mathematics of Cities, UCL Centre for Advanced Spatial Analysis​, author and radio and TV presenter.
In her keynote All About the Data: The Mathematics Shaping the Future on Wednesday 17 May, Fry will take a mathematician's look at how to analyse the trends that will inform future strategies.
3.Expand knowledge and maximise opportunities
New to this year are two conference tracks dedicated to areas of increasing importance to the industry – ESG and food and beverage. The dedicated 'hubs' will host sessions that will help attendees expand their knowledge in their respective areas so they can maximise opportunities in their businesses.
The ESG Hub, delivered in partnership with the Energy and Environment Alliance (EEA) and sponsored by EEA, MindClick and Naked Energy, will play host to a number of lightning talks, thought-leadership case studies and product showcases borne out of the requirement for knowledge, products and services relating to ESG from investors, asset managers and operators.
Sessions include Capital Outlook: How is ESG Really Influencing Investors' Decisions Now? And Adapting the Supply: Refurbishing Hospitality Properties for ESG Compliance.
Bringing into sharper focus the role F&B plays achieving asset and operational optimisation for investors and operators, is The F&B Optimisation Hub.
Featuring its own content stage with operational champions and concept pioneers, alongside live demos and samples, session titles include Thoughtful F&B Design: Breaking free of Uninspiring Spaces to Maximise Guest Experience and Drive Revenue.
4.Explore the alternatives
Research shows that, due to leaner cost bases and less exposure to operational cost headwinds, more investors are looking beyond full service hotels and exploring alternatives for their funds, including limited service hotels.
Adjacent Spaces, running on Tuesday 16 May at the Pullman Hotel in Berlin, is the place to find out more about alternative asset classes, including co-living, co-working, serviced apartments, hostels and student accommodation.
Speakers include Ngor Houai Lee, managing director Europe, Ascott, who will talk about the expansion of Ascott's new brand lyf – a new concept combining the best of serviced residences, hotels and co-living apartments – into Europe and Natalia Kolotneva, head of European living and hospitality, La Salle Investment Management who will chair a discussion looking into how investors can better understand opportunities in the operational real estate (OpRE) sector and look at ways to balance risk and returns.
5.Forge valuable connections
IHIF attracts delegates from across the hospitality ecosystem, including investors, owners, operators and developers, providing the perfect opportunity to make new connections and strengthen existing relationships.
To help delegates forge associations and develop leads, IHIF has a number of organised networking opportunities – from networking lunches to evening receptions – taking place over three days.
Registered attendees can also make the most of their time by setting up meetings with fellow delegates ahead of the event via the IHIF Event and Networking app while those with a more serendipitous approach will find multiple opportunities to rub shoulders with their peers at the exhibition and before and after sessions.
For more information and to register for IHIF (15-17 May 2023) visit www.ihif.com.
Standard – available until 12 May 2023 £3,360
Late/Onsite – available until 17 May 2023 £3,750
Follow IHIF 2023 on Twitter @IHIF_News and use #IHIF2023 to stay up to date with the latest news.
Notes to Editors:
Questex Hospitality Group, a division of Questex LLC, represents a senior audience of $650 billion in hotel assets, reaching one in two hotel owners and operators across the globe. With a portfolio of both media and live events, including Hospitality Insights, The Annual Hotel Conference (AHC), The International Hospitality Investment Forum (IHIF), and The Resort & Residential Hospitality Forum (R&R), Questex Hospitality Group brings together leaders in hospitality investment, development and operations to make the deals that shape recovery and growth in the sector.